Every year, on the third Sunday in June, we take a day to celebrate our Fathers and the lessons they have taught us.
Be prepared for an emergency
Everyone celebrates in a different way, be it a quiet Sunday dinner, a day at a sporting event or even a cup of coffee in a "World's Best Dad" mug! But on the day, we'll all find a way to tell the men who raised us that they are special to us.
From when we are very little, there are those people who stand by us in moments of great triumph and great disappointment. They help us learn how to make decisions and they begin to shape the people we will become.
This week in honour of Father's Day this weekend we asked our family, friends and colleagues to tell us about the most important lesson they learned from their Fathers.
Through language barriers and generation gaps the messages were resoundingly thoughtful and struck a chord with those of us reading them. What was the most important lesson your Father taught you?
Never give up
"I've learned a lot from my Father over the years but one of his many anecdotes from his Rally driving days, sums it up the best.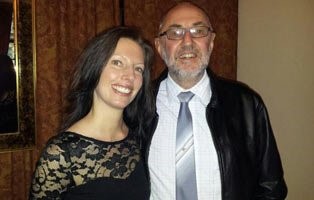 My Father won quite a few first place medals and cups which were displayed in the trophy cabinet in the lounge. Sometimes, I can't help but wonder how he achieved them. On one occasion back in the mid-70s, he drove his mini into a ditch during a night trial and there was no hope of reviving it. Now, my Mother had a beautiful tulip coloured one that was her pride and joy. Somehow, he 'acquired' the car, re-sprayed it overnight and managed to turn up at the start line the next day.
If I re think the story, I believe my Mother's car met a similar fate and my Dad had an awful lot of explaining to do. However, the story reminds me that he's always instilled in me the idea that there's always another way. Life presents us with options; it's up to us to go get them, after all we only live once.
For those of you who may now have concerns about my moral compass, I'd like to reassure you that I do have scruples, but invariably the lesson I learned was that if I don't succeed the first time, I will try again!" Miranda
Stand out from the crowd
"Father to 4 boys, he taught us many things. He taught us to ask the question, 'why not?' You only live once and if the pros outweigh the cons, GO FOR IT!
He shared his realisation that there are 24 hours in every day, use them! You never know when they'll run out, so live each day to the fullest.
One of the expressions that makes me think of him is "dead fish swim with the tide". He wanted us to think and do differently, find a new angle and swim against the tide in an effort to succeed." Oliver
It's not just about me
"I love that my Dad makes people feel good about themselves. He's always ready to ask questions rather than talking about himself. Not sure if I've learned to do this as well as he does, but I certainly try!" Ben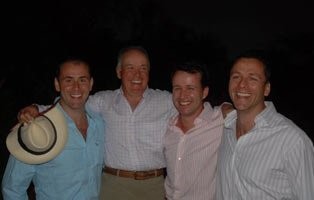 Ask Questions
"The first things that came to mind were being taught the importance of an enquiring mind, learning how to do things and having fun! As children, whenever we asked questions about how things worked, my Dad would usually find a way to demonstrate them to help us understand.
I have childhood memories full of things like experimenting with the right proportions of the ingredients to make gunpowder, I can still remember the smell of burning sulphur! This would be a big health and safety issue today, but we had fun!
He taught me to sail, and helped to build a death slide in the garden, while my terrified mother looked on. One summer we built a soapbox cart from an old dolls pram with rack and pinion steering.
I can still remember standing with my brother on the side of a long straight road near our house as my Dad drove back and forth to demonstrate the Doppler Effect! My Dad was and still is brilliant, basically because I don't think he ever grew up!" Tamara
Consider the circumstances
"One of the most important sentences I heard from my Father was the question 'is it better to be the head of a mouse or the tail of a lion?' He taught me to look at the circumstances of a situation and decide if it was better to be in charge of something small or a part of something big, that I couldn't achieve on my own. Every situation was different!" Angel
Have fun
"My Dad taught me to have fun and to appreciate nature. He took us camping and on road trips and I find myself missing him often. I still find myself using what we called 'Fredisms' like mik, instead of saying there is more in the kitchen. I can still picture him holding up his coffee mug and hitting it with his spoon to try and get the waitress's attention, when she came over, he was never rude, he'd look up un-apologetically and declare 'I'm a coffeeholic you know!'. He was a very kind man and I do my best to be that way too!" Mary
Be careful how you judge
"My Dad instilled in me the words of Mark Twain: 'When I was a boy of fourteen, my father was so ignorant I could hardly stand to have the old man around. But when I got to be twenty-one, I was astonished at how much he had learned in seven years.' When it comes to relationships, parameters and perspectives change, so be patient with others and try to understand before judging." Martin
Never be too serious
"My Dad taught me to never take myself too seriously, something I keep reminding myself of. This is me and my dad sitting on the roof of our car at the local point to point in 1973. I loved it up there!" Sam