At Bright Horizons we take our corporate social responsibility as seriously as you do. Our CSR strategy consists of three pillars: Diversity, Equity, Inclusion and Belonging; Future Earth (our impact on the environment); and the Bright Horizons Foundation for Children (our impact on disadvantaged children and families in our communities).
The Foundation for Children works closely with many domestic violence refuges, and we are seeing an increase in the number of our 400+ clients addressing the issue of domestic abuse and supporting victims.
According to the ONS, 1 in 5 adults experienced domestic abuse in the year to March 2022 (Crime Survey for England and Wales). The workplace can be a place of sanctuary to victims, a place where they can be free from the perpetrator and safely find and access help.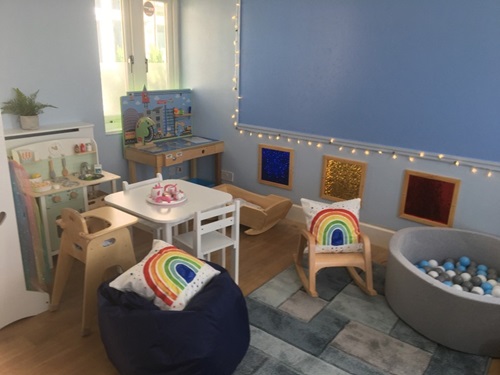 To support our clients and your workforces, we have created a range of domestic abuse resources available to all our clients including an e-learning; Domestic Abuse Procedure; guides on Staying Safe at Home, On the Move, and Online; directory of specialist agencies for signposting; and a Personal Safety Plan. If you would like to receive these free resources, please get in touch here. We can also host panel discussions and webinars on domestic abuse awareness if desired through our Coaching team.
We can also help you make a difference to children who are victims of domestic abuse through our registered charity, the Bright Horizons Foundation for Children. We create Bright Spaces, which are play environments for vulnerable children who are experiencing domestic abuse, ill health, homelessness and parental imprisonment. Of our 90 Bright Spaces in the UK, 34 are in domestic abuse refuges, with our most recent opening at the beginning of June for Solace Women's Aid in London (pictured). We are always seeking corporate partners for our Bright Spaces – if you would like to know more about how you can get involved please get in touch here.